© 2006 Lisa Schwartz
We suggest that while you browse this page you listen to an audio podcast that is part of our series, Exploring Arizona Life Science Research and Biodiversity with the Tree of Life Web Project. To do so please subscribe to our podcast series. You can also listen now. Let us know what you think about this podcast and learning resource, and talk about the issues they introduce on our blog site and/or on our podcast survey.
Farmers markets are great places to get connected to your local natural environment and other people in your community. On almost any day of the week you can visit a Tucson area farmers market to pick up some delicious produce, learn about cultural and biological diversity as well as meet some inspiring people working for environmental and human health!
On two beautiful autumn days I visited the Rincon Valley Farmers Market, which is held on Saturdays in Vail, Arizona, and the University of Arizona (UA) Farmers Market, which is held on Fridays on the UA campus.
Rincon Valley Farmers Market
Growing Community Around Local Food and Conservation Issues

Michelle Zimmerman of the Rincon Institute and a green chile. © 2006 Lisa Schwartz
The aroma of roasting green chiles from Hatch, New Mexico pervaded the air as I spoke to the founders, managers, growers, and locals who make the Rincon Valley Farmers market a great place to eat and grow community.
I spoke to Michelle Zimmerman of the Rincon Institute and Yarro, the market manager. They explained that Molly Eglin opened the market in 2001 as a project of the Rincon Institute, a non-profit that works to integrate community and conservation. The market provides a place to talk to residents, new and old about the conservation issues that face the residents of Vail, Arizona and the Rincon Valley. Read more about Molly Eglin's vision for the market.

Wild Desert Nursery: Saving Native Plants
Next, as I munched on an impromptu meal of homemade tortillas with green chile I spoke to Deb Hendzel founder of Wild Desert Nursery, a refuge for plants have been rescued from planned developments before the land is graded. Deb founded the nursery in response to seeing the neighborhoods right around where she lives getting developed and beautiful, slow growing and drought tolerant native plants being destroyed. The nursery works to repopulate new development with native plants, in a sense, recreating the Sonoran desert habitat that is destroyed when land is razed to build new homes.

Deb saved over 500 ocotillos alone last year. Ocotillos that are salvaged (as well as other plants) are planted in the nursery and then dug up when they find a new home for them.
Read more about Wild Desert Nursery
Click on an image to view larger version & data in a new window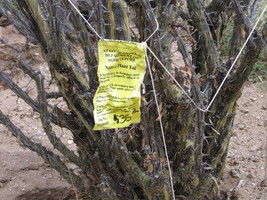 An Ocotillo that has been salvaged. © 2006 Lisa Schwartz. Ocotillos that were salvaged and have been planted in the nursery. © 2006 Lisa Schwartz Deb Henzel founder of Wild Desert Nursery © 2006 Lisa Schwartz.
Farming and Conservation: Leo Dunaetz, Local Farmer
Farmer Leo Dunaetz. © 2006 Lisa Schwartz
Eighty-one year old farmer Leo Dunaetz grows apples and other fruits and veggies on his "Big D" farm in Cochise, Arizona. He offered me an apple to munch on while we talked about working with desert soil. We also discussed the spectacular beauty of the land where he lives and works. Like Deb of Wild Desert Nursery, Leo stressed the issue of water as a real challenge for the Sonoran Desert and it's inhabitants, and he is working on ways to conserve both water and energy resources. Leo has already taken measures to pump less ground water, and this February plans to begin studying how to implement solar power on his farm when he goes to a farm show in Fresno, CA.
University of Arizona Farmers Market
This Fall I was delighted to find that the UA now has a weekly farmers market, that is part of the UA's Well University Partnership. The UA Farmers Market's mission is to promote a culture of health and wellness on campus. Gale Welter, coordinator of the farmers market and a nutrition counselor with Campus Health Service says, "The market is about education, the key mission of our land grant institution. The University community can learn more about 'field-to-plate' eating, sustainability of our resources and simple, convenient changes they can make in their daily lives to feel more energized and be healthier."

Desert Foods: the Prickly Pear
At the market, I bought some organically grown apples and talked with Natalie McGee, a social worker and UA alumnus who makes and sells prickly pear syrup. We talked about her belief in the use of prickly pear syrup for helping to combat the high incidence of diabetes in indigenous communities of the southwest. Natalie has been working for years to make people aware of how eating this Sonoran Desert food may help one avoid diabetes, or, if already affected by the disease, how one might be able to regulate their blood sugar.

See links in the Information on the Internet section below for information on research on the use of the prickly pear fruit and pad for medicinal purposes.
Click on an image to view larger version & data in a new window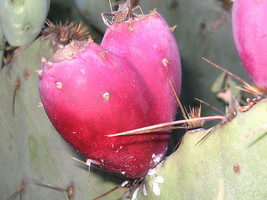 © 2006 Lisa Schwartz Prickly Pears belong to the genus Opuntia © 2006 van+s. A close-up of the Prickly Pear fruit. © 2006 SeanMcTex
Overall, the community sprit and connection to place that emanates from these farmers markets make them spots that you don't want to miss visiting!
Click on an image to view larger version & data in a new window
Wild Desert Nursery, Leo Dunaetz's apples. © 2006 Lisa Schwartz
Information on the Internet